Rechargeable USB Blackhead Remover Vacuum Acne Cleanser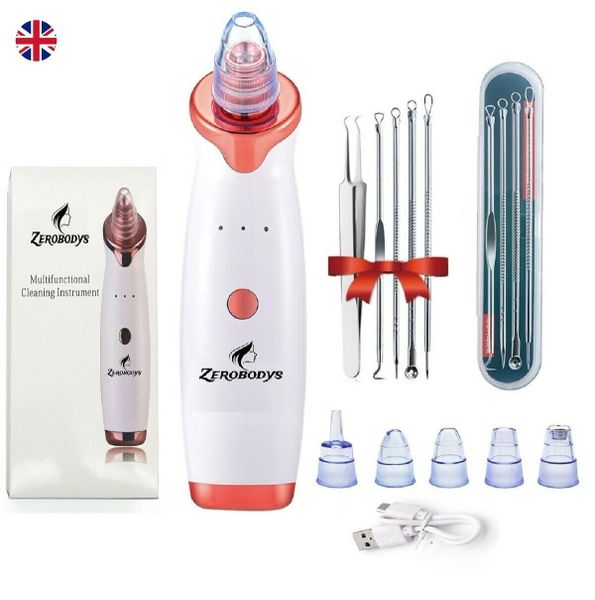 Rechargeable USB Blackhead Remover Vacuum Acne Cleanser
Blackhead Remover Tool Kit Pimple Remover Needles Set Stainless Steel Remover Face Beauty Equipment
Electric Facial Skin Care Pore Blackhead Remover Cleaner Vacuum Acne Cleanser UK
This is a multifunctional suction machine which can absorb blackhead, acne, mites, dirt etc on the face and clean facial skin. It can help to keep your skin gentle, more young and full of vitality. Do you want to be much more charming?  Get one, miracles will appear obviously after several days usage. Less blackhead will appear  if you insist on using again and again.
- The product is of all-in-one design to be in line with ergonomics for easy grip.
- Three levels to meet the needs of different skin.
- Equipped with 5 probes for you to replace at will and meet the needs of different parts.
- Being rechargeable and portable, it can avoid frequent replacement of the battery.
- It is with 53KPA strong suction to remove the blackhead easily.
Acne Needles Features:
1. Blackhead Blemish Remover & Acne Pimple Extractors, 5-Pieces Kit, Includes Lance Tools, Needles, and Cone Dome Extractors.

2. High Quality Stainless Steel Material, Resistant to Rust, Easy to Clean.

3. Used for Removing Acne, Blackheads, Whiteheads, Pimples and Blemishes, Minimize Damage to Your Skin.

4. Portable.
Tips
1. Please DO NOT apply blackhead removal suction on one part of the skin for a long time, but move it around gently. In case it may hurt the skin or leave bruise.
2.  For the first time use the blackhead removal tool, please apply it on your hand or neck to adapt to the operating and suctioning.
3.  After the treatment, use the iced facial sheet mask or cold water to cool skin and close the pores .
4.  Please clean the nozzle before and after use.
5. Cleans deep-seated dirt and diminishes appearance of large pores, use gently, deep cleansing suction to remove skin impurities.
6.  It is recommended that you apply facial steamer or warm towel for 3~5 minutes to your skin, which helps to open the pores for easier remove of blackhead.
7.  DO NOT use the blackhead remover frequently, no more than once a week. Please stop using it if any adverse reactions occur.
Reviews