7 Colors LED Light Photon Therapy Face Mask Anti-aging Wrinkles Facial Mask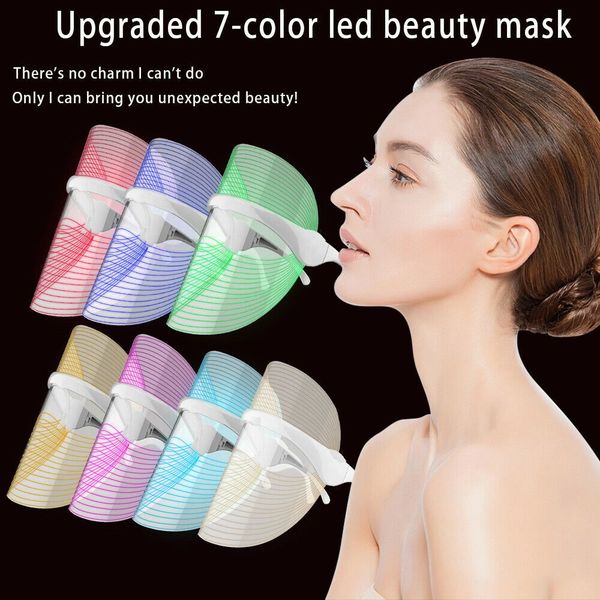 7 Colors LED Light Photon Therapy Face Mask Anti-aging Wrinkles Facial Mask
7 Colors LED Light Photon Face Mask Skin Rejuvenation Facial Therapy Wrinkle
Product size: 210*165* 125mm
Material: ABS
Output voltage: 5V 1A
Efficacy: Improve skin texture, firm and firm skin
Working principle:
Using the principle of biological stimulation (non-biologically destructive),
Using fixed wavelength light to improve the cortex
Red light (lighten the pigment), blue light (oil control battle acne),
Orange Light (Smooth Skin Rejuvenation)
Method of operation:
1. Put on the LED photon skin rejuvenation instrument, long press the key to turn on the machine
2. Short press the key to adjust the light to red light and wait for 5 to 10 minutes
3. Short press the key to turn the light to blue light and wait for 5 to 10 minutes
4. Short press the key to adjust the light to orange light, wait for 5 10 minutes
5. After use, please keep it properly after cleaning to facilitate the next use.
Precautions:
The product is a rechargeable LED mask. Please charge it when the battery is low. The mask can be applied when used and used together to promote absorption of the film. better result. This product is a transparent PC film, which does not block the line of sight. You can use your mobile phone to watch TV and read books when using it, which makes you feel happy.
Remarks:
1. The manual measurement tolerance is 2-5g. Please don't mind your replacement.
2. Due to the differences between different monitors, the image may not reflect the actual color of the project. thank you very much!
Package Included:
1*Face mask
1*USB cable
1*User manual
1 * Box
Feature
1. LED photon therapy, comfortable warm light treatment.
2. The mask is healthy to skin, the frame structure allows you wear it stably and comfortably.
3. Better results if you use with face care liquid, lotion or cream,
4. Speed collagen renewal to make skin whiter, tender.
5. Shrink pores, improve skin tone, increase skin elasticity.
6. Dilute freckle, redness, remove acne, inhabit bacterial.
7. Promote blood circulation, lock in moisture.
8. Ideal beauty tool at home, in the office, on travel etc.
Function
1. Wavelength of red light varies from 620 to 750nm and it failiates blood circulation, acelerates metabolism, generates cllagen, helpful to the wrinkle care and the skin improvement.
2. Wavelength of blue light varies form 476 to 495nm and it removes propionibacterium acnes, is helpful to the acne care, improving the envronment in the hair flile
3. Wavelength of orange light varies from 590 to 620nm and it improves the function of oxygen exchange in the cell, acelerae the blood ciculation together with fading he pigments therefore, i helpful to improves to soften skin.
4. Green light (520nm) to neutralazation, balance skin condition relieve mental stress and efective dredge lymphoid and edema.
5. Purple light: it is red and blue dual-band light, a combination of two kinds of phototherapy effect, especially in healing and repairing the acne scar.
6. Light purple light: resolving age spots,improve fine lines and sagging skin.
7. Cyanine light: enhance the cell energy graully, promote metabolism.
How to Use
1. Clean your face.
2. Apply a mask.
3. Wear the LED mask, and choose the color you want.
4. Finish.(15-20mins)
Operation
1. Clean skin.
2. Apply soothing or hydrating products.
3. Long press the switch to turn on the mask.
4. Short press the switch to select your desired LED light color.
5. Wear the mask on face for 10 to 20 minutes.
6. Long press the switch to turn off the mask.
Note: LED light therapy can be used daily for optimal results.
Note
1. Turn on the power after connecting all the connections.
2. Electric circuit inside the device should not be pressed or folded, and it should be placed flat to be properly protected after the use.
3. Please be careful that heavy things are not placed over it.
Tips
Every day use, 15mins/time. Recommend using with mask/essence.
Caution
Use on clean skin. Do not use harsh products such as acids, spot treatment product and retinols under the mask.
Electric circuit on the device should not be pressed or folded. Please place the mask flatly after every use.
Store the mask back in box to avoid any possible damages to it.
Reviews