Ultrasonic Skin Scrubber Blackhead Peeling Remover Facial Pore Deep Cleaning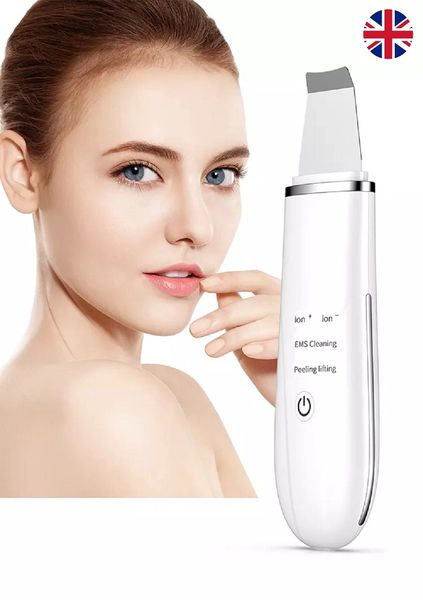 Ultrasonic Skin Scrubber Blackhead Peeling Remover Facial Pore Deep Cleaning
Ultrasonic Skin Scrubber Blackhead Peeling Remover Facial Pore Deep Cleaning
Ultrasonic Skin Scrubber, Skin Rejuvenation, Blackhead Peeling Remover and Facial Pore Deep Cleaning.
Are you facing these troubles? Blackheads, acnes, pimples on your face, one after another? Dull skin? Large pores? The traditional treatment method caused damage to the skin and enlarged pores? DON'T WORRY! THIS Ultrasonic shovel could solve these troubles without hurting the skin and enlarging the pores.
Facial skin ultrasonic scrubber works for gently peel horniness and skin rejuvenation. It removes and eliminates dead cell
effectively to avoid the cuticle stacking. When using for several days, this ultrasonic facial cleaner can relieve melanin and
dirt, firm wrinkles and whiten skin, helping restore the elasticity of skin and make your skin firm, smooth and delicate.
Humanized Design One button operation, easy to use. Convenient USB charging. Sonic head made of safe, and non-allergic high-quality stainless steel, curved design with more fittings to human face and more concentrated energy. Lightweight and portable, it allows you to do facial care no matter at home, business trip or travelling. The outer shell is made of environmentally friendly ABS materials.
Usage Tips Please read the user manual before use the Ultrasonic Ion Cleaner. Please charge it at least for 5 hours before the first use. Beauty requires perserverence, After 2-3 months of continuous use, 2-3 times a week, you will find the difference.
Features:
This item combines two skin care treatments: 1. The Deep Cleanse treatment uses Continuous Waves to remove dead cells from the surface of the skin to make your skin feeling refreshed, rejuvenated and ultra smooth. 2. The Sonophoresis treatment uses Pulsing Waves to increase the permeability of your skin, helping the effective absorption of serums. This combined with the increased circulation from the ultrasonic waves helps plump up the skin, reducing the appearance of fine lines and wrinkles.
Function:
1.Deep cleansing: A way of 45 degree angle to accelerate the metabolism of epidermic cells and renew its normal upgrading rate, enhance the shedding of the aged and irregular aberrant cells, soften the keratin, reorder the epidermic cells while restoring the skin elasticity and reverting to a firm, smooth and delicate skin. 2.Leading-in nutrition & activating skin By adopting ultrasonic vibration theory and tepid effect, it can promote blood circulation inside the dermis, accelerate lymphatic return, discharge toxin which accumulated in the deeper skin and eliminate dead cell to avoid Corneous layer cells accumulation excessively, thus to make the moisture and nutrition to transfer rapidly, enhance cell's penetrability, strengthen skin care product absorption, improve skin moisten.
Notes:
1.Before and after the product is used, please wipe the stainless shovel head with alcohol
2.Do not impact and collision
3.Do not stay on the skin for more than 3 seconds. If you feel hot, please take it away and check the machine immediately.
Packaging
x1 Skin Scrubber
x1 USB cable
x1 User Mannual.
Reviews