LCD Laser Plasma Skin Tag Remover Age Spot Pen Mole Wart Tattoo Removal Machine.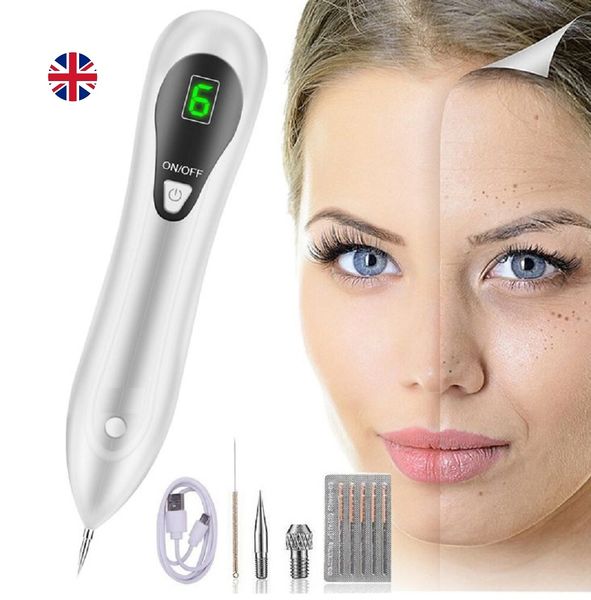 LCD Laser Plasma Skin Tag Remover Age Spot Pen Mole Wart Tattoo Removal Machine.
Fuctions:
1. Remove Moles.
2. Remove Tattoo.
3. Remove Wart(Verruca).
4. Remove Freckle,Spot,Freck.
5. Remove Fleshy Nevus.
Perfect for Home Use Designed for home use, our mole and skin tag remover is portable and delicate, easy to operate, so convenient for you to use at home. For people who are suffer from skin problems just like skin tag sun spots warts facial freckle nevus, you can solve them by yourself rather than pay extortionate amount to a beauty therapist. Buy it, good choice. Help to remove mole, skin tags, freckles, dark spots, birth marks, small tattoo, etc. Design for home-use. No bleeding, No sensation of being shocked by electricity and No side-effects. Say goodbye to those frustrated skin care troubles, rebuilding your inner confidence.
Skin Tag Removal 6 Adjustable Modes for different skins. Convenient and practical USB charging with security chip. LCD Display shows the working level and battery level clearly. safe and reliable, makes the device more controllable. What's more, come with the 5 fine replaceable needles, which can satisfy your face 
How to Use Long press ON/OFF button for about 3 seconds to open/shut off. Short press ON/OFF button to switch the speed level. Hold the  button throughout the process and gently sweep targeted spot from back to front with small area. Usually the fine needle (one time use) on lower gears to target small moles, skin tags, freckles, and other small pigmentations, the coarse needle (reusable) on low and high gears to target larger moles, freckles, warts and nevus.
Contents:  1 mole remover pen, 1 USB charging cable, 5 fine needles, 1 coarse needles, 1 user manual. Our mole remover kit concludes everything you need, save money and time.
Specifications:
Size: 17.5cmX3.5cm 
Type:Remover Spot Pen
Body Area:Face
Features:USB Rechargeable
Skin Type:  All Skin Types
Department:Unisex
Material:ABS
Sub-Type:  Freckle Removal Pen 
color: White 
Model:Tag Remover
Package Included:
1X Skin Tag Remover
5X Fine Needles
1X Big Needle
1X USB Charging Cable
1X User Manual
Reviews