3 in 1 Facial Cleansing Brush Facial Cleanser Brush Electric Rechargeable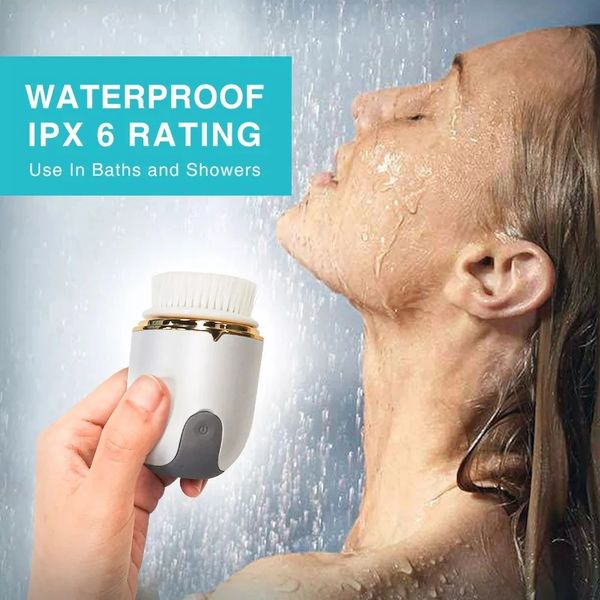 3 in 1 Facial Cleansing Brush Facial Cleanser Brush Electric Rechargeable
3 in 1 Facial Cleansing Brush Facial Cleanser Brush Electric Rechargeable
DEEP CLEANSING, EXFOLIATORS, PORE CLEANER, PORE SHRINKI
About this item 
Refresh your skin - With the latest sonic cleaning technology, the facial cleansing brush effectively remove oil, aging cutin and make-up residues, saving you precious time, and recuperating the skin transparent, white, tender and smooth state of the skin. 
3 Replaceable brush heads - With 1pcs 0.08mm normal face cleansing brush for effective skin cleansing and 2pcs 0.06mm facial cleansing brush head for sensitive skin cleansing, the facial brush offers you more flexible choice for different skin conditions cleansing. 
3 Adjustable modes - ZEROBODYS facial cleanser brush has 3 different vibration speed levels including low, middle and high, making you freely choose the intensity of cleaning to meet your different body part needs. 
IPX6 Waterproof - Made of waterproof material, no problem in using it in the bathtub, and also especially suitable for people who prefer an in-shower. 
LONG BATTERY LIFE & PORTABLE - Equipped with a 400mah lithium battery, a short 3 hours charging can provide you with 20 days of normal use. Portable size appearance makes it convenient to carry.
Functions:
Rotary cleaning, massage and cleaning, convenient and fast.
Double gear adjustment, choose different cleaning intensity according to different skin conditions, first gear gentle mode and second gear cleaning mode.
Soft brush head: delicate skin, large soft brush head, high-quality brush material.
Waterproof function. The host can be directly cleaned and used in bath. It can be brought into the bathroom and other occasions, safe and convenient.
One machine is multi-purpose. One machine supports multiple brush heads. The brush head can be easily changed and can be used by multiple people in one family. Including makeup remover cleaning brush head (suitable for makeup remover cleaning of all kinds of skin), daily cleaning brush head (suitable for daily cleaning of neutral muscle, oily muscle and mixed muscle), soft skin friendly brush head (suitable for skin with thin cuticle such as sensitive muscle and acne muscle)
Long service life, two minutes at a time, twice a day, lasting for 15 days.
Reviews