3 Color LED Light Photon Face Mask Skin Rejuvenation Facial Therapy.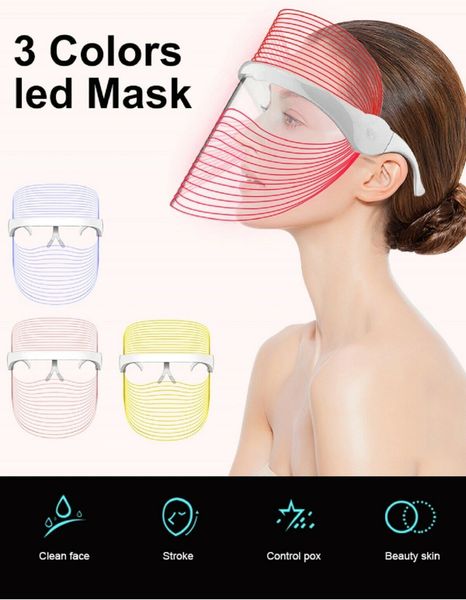 3 Color LED Light Photon Face Mask Skin Rejuvenation Facial Therapy.
Description:
Light Therapy Acne Mask Freckle Mask, LED Skin Lightning Mask, Facial Therapy for Acne Spot Face Skin Treatment - Individually Lights of Red/Blue/Yellow

Specifications:
Material: ABS Plastic
Working voltage: 5 V
Powered by: USB Cable
LED light: Red & Blue & Yellow
Colour: Transparent
Package Weight: Approx. 330g
Item type: LED Mask.
Product features:
touch adjustment / transparent design / intelligent timing
Product function: three color light spectroscopy
Product efficacy: light wrinkle anti-aging fade light spots brighten skin tone strengthen absorption
Power mode: USB
Features:
1.3 Colour LED mask, just use daily for 10-20 mins anytime.
2.LED photon therapy, provides comfortable warm light treatment.
3.The mask promotes skin healthiness, the frame structure allows you wear it stably and comfortably throughout the day no matter what you're doing.
4.Potential for better results if you use the mask in conjunction with a quality facial serum, lotion or cream
5.Speeds collagen renewal to make skin brighter, plumper and rejuvenated.
6.Shrinks pores, improves skin tone, and increases skin elasticity.
7.Dilutes redness, and targets bacteria therefore improves acne.
8.locks in moisture giving you a youthful glow.
9.Ideal beauty tool at home, in the office, during travel etc. A self care must have
Function:
1.Red Light: 640~650nm: increases skin elasticity and improves metabolism.
2.Blue Light: 445~450nm: inhibits oil secretion, prevents acne and diminishes scars.
3.Orange Light:600~610nm: Repairs dull skin and promotes delicate skin.

How to Use:
1. Prep and clean your face with a cleanser.
2. Wear the LED mask, and choose the color you want to best suit your needs.
3. Finish.(15-20mins daily)
Note:
1.Turn on the power after connecting all the connections.
2.Electric circuit inside the device should not be pressed or folded, and it should be placed flat to be properly protected after the use.
3.Please be careful that heavy things are not placed over it.
Tips: Every day use, 15mins/time. Recommend use with mask/essence.
Recommend Age: Unisex 16-60 years old.

Product Includes:
1 x LED Mask
1 x USB
1 x Manual
Reviews